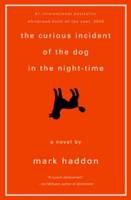 It's always a delight to find an intelligent, sensitive, totally delightful new writer. In the curious incident of the dog in the night-time, Mark Haddon tells the story from the perspective of an autistic teenager.

Through this emotionally impaired, literal-minded child genius, Haddon succeeds not only in telling a riveting story, but also in imparting how difficult, wrenching, exhausting it is for the parents to care for such a near-adult child, and how the rest of the world perceives him.

the curious incident is not only a delight to read, but it leaves you rethinking your attitudes towards hurt kids.