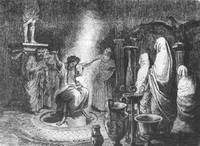 Came across this article on archeological discoveries at Delphi. It seems the Oracle were sniffing gas --ethylene for the most part-- which can produce hallucinations:
"Reporting recently in the journal Geology, the team said that tests on the Delphi rock and the waters of a nearby spring showed the presence of methane and ethane, which can be intoxicating, as well as ethylene, widely used as an anesthetic in the first half of the 20th century.

Ethylene, Spiller explained, produces "stages" of anesthesia. Low doses induce "disembodied euphoria, with periods of excitation and amnesia," he said. But at higher doses, "you get delirium, hysteria and a combative, agitated state," he added. Further along comes unconsciousness and, if one is not careful, death.

All of this squares nicely with historical accounts. As a high priest at the temple in the 1st century A.D., the biographer Plutarch noted that the pythia delivered oracles from a tripod in a small below-ground chamber bathed in gases carried up by underground springs."
Read the entire article
here